Since I began my real estate career in 2007 I have been looking for innovative ways to help my clients succeed. The traditional model of real estate has been slowly dying. There have been radical changes in our industry and the economy. The time of putting a yard sign and being the gate keeper of information is long gone, a new era of real estate sales is upon us. I knew to succeed in real estate sales I would need to become an expert and arm myself with knowledge. My husband Rob and I began studying all aspects of real estate, the market conditions, economic fundamentals and real estate investing. We read every book we could find, attended courses all across Canada, we joined REIN (real estate investment network) and I belong to Richard Robbins, a professional coaching company, being trained by some of the countries top real estate professionals. This has allowed me to produce extraordinary results and become the TOP AGENT in my brokerage for the last 4 years.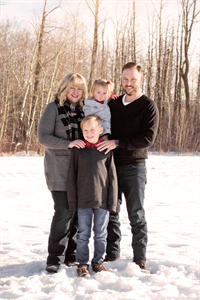 I love spending time with my family, my husband Rob and our very busy 9 year old Nate and our newest addition Rowyn. We are passionate about travel and have travelled throughout North America, Europe, Asia and Africa and have camped all around Alberta. Real Estate has become a family business (obsession) you can often find the four of us looking at new investment opportunities or working on one of our rental properties.
My Commitment
My goal, unlike many agents, is not to sell as many homes as I possibly can, but rather to provide the best service possible to each and every client I represent. Therefore, I will always place the best interests of our clients before my own and I will treat each client with the utmost respect.
I will never pressure, deceive or manipulate my clients in any way and I will never enter into a client relationship where I know that what is expected of me cannot be done in good faith. I will never take on more clients than I can serve with excellence, and I will continually strive to improve my service through education and training.
I share this with you because I believe it is important for you to know how I do business.
There are hundreds of agents you could choose to represent you in the sale of your home, but I can assure you that none are more committed to your complete satisfaction than I am.
Why Christie Bergman?
We all keep a list of trusted professionals who are only a phone call away – they are our doctors, our dentists, our accountants, lawyers, and mechanics. Experts we know and develop personal relationships with over years, decades, maybe even a lifetime.
I would like to offer you my services, joining your trusted team as your personal REALTOR®.
You can rely on me to guide you through the exciting, sometimes daunting world of buying and selling real estate. Through every negotiation, every decision, and every piece of paperwork, I'll work to help you make the best deal possible.
Most importantly, you can count on me to respect and understand your housing needs, as your family grows and your priorities change. I look forward to meeting you and helping to make your dreams come true!
I love being a REALTOR®. I can't imagine a better job than helping people find a place to call home.
Thinking of Selling your home? 
Click here to find out more about why you should list with Christie Bergman
.